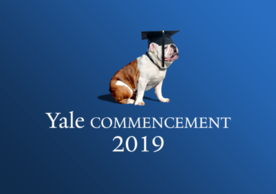 Want to view the Commencement schedule by school? Can't remember where your student's diploma ceremony is located? Don't want to carry a paper map of campus?
Download the  App for Yale Commencement 2019! Use the app to plan your visit and to navigate campus while you're here during Commencement weekend. The app includes:
the weekend's Calendar of Events
locations of ceremonies and events
maps of campus
parking and transportation information
dining options on campus
accommodation information
helpful highlights about Yale and the city of New Haven
livestreams of the major ceremonies
Yale's social media channels, which are regularly updated throughout Commencement weekend
How to Get the App:
1) Visit the Apple App Store (for iPhone/iPad) or the Google Play Store (for Android). Search for the app titled "Crowd Compass Attendee Hub."
2) Download and open the app. 
3) Browse for the event "Yale Commencement 2019," and press to load. 
Note: If you wish to use some of the app's advanced features to bookmark events, create your own weekend schedule, or receive push notifications, please create an account and log in. Click on the menu button in the top left corner of the app, and select "Log in for more features!". You will be prompted through the steps to create an account. 
The app's main Calendar of Events features ALL Commencement weekend activities, including the individual ceremonies and events of Yale College, the Graduate School of Arts & Sciences, and the professional schools. We recommend creating a customized schedule featuring the University Commencement exercises, the ceremonies your students' school or college is hosting, and the performances you are interested in attending. On Commencement weekend, you can pull up your personal schedule and navigate the weekend with ease!
Don't have a smartphone or tablet? View the app in your web browser.
How To Use The App
Download this step-by-step guide on how to use the app and its features!